SENIOR ART SHOW CONTEST
OCTOBER 20th – 23rd, 2021
YAMBOREE EXHIBIT BUILDING
SPONSORED BY, SILVER ALLEY EVENT HALL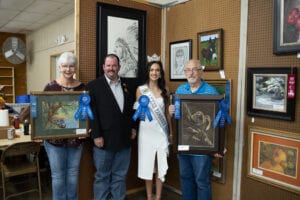 Queen Audrey Nolan with President Michael Blanks with Art Show Winners
Paintings must be brought in and registered on Wednesday, October 20th from 1:00 pm – 4:00 pm at the Yamboree Exhibit Building
Paintings must have been done in the past four years.
Previous prize-winning pictures will not be eligible for competition.
Artists are encouraged to enter all paintings in the show. Copies or classroom work is not encouraged. If entered, they will be judged accordingly.
Any painting not to be judged must be so marked. No paintings over 50 inches in width framed will be accepted. All paintings must be framed and have wire hangers.
Artists are responsible for their own pictures.
No nudes will be accepted.
Entries will be limited to 3 per person.
$5.00 per entry will be charged.
The paintings will be placed in the category best suited for the show.
Best of show winners' photos will be taken at 4:00 pm Friday, October 22nd.
Please visit our Youth Art Show while you're at the Yamboree Exhibit Building as well and our Decorated Yam Contest as well.
CATEGORIES FOR ENTRIES
Oil and acrylics (landscape and still life)
Watercolor
Drawings (charcoal, pastels, pencil, ink)
Abstract division
Portraits (all media)
AWARDS
Professional: 1st,$15.00; 2nd, $10.00; 3rd, $5.00
Advanced: 1st, $10.00; 2nd, $5.00; 3rd, $3.00
Amateur: 1st, $5.00; 2nd, $3.00; 3rd, $1.00
Best of Show ribbon will be awarded in each division.
Paintings must be picked up Saturday, October 23rd between 4:00 pm and 5:00 pm. NO EXCEPTIONS! The Yamboree Association is not responsible for paintings left after 5:00 pm. Positive ID is required for the release of paintings.
Please direct any questions or concerns to:
Katie Nugent, Exhibit Building Chairman (903) 841-0092