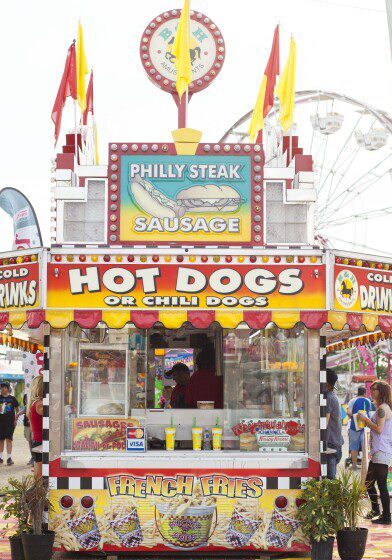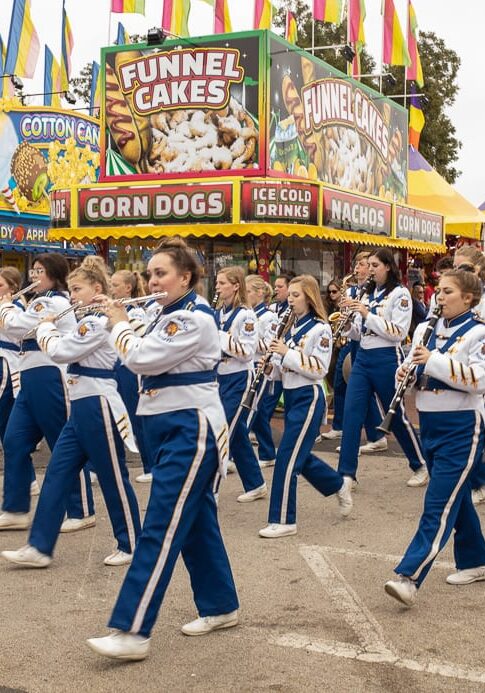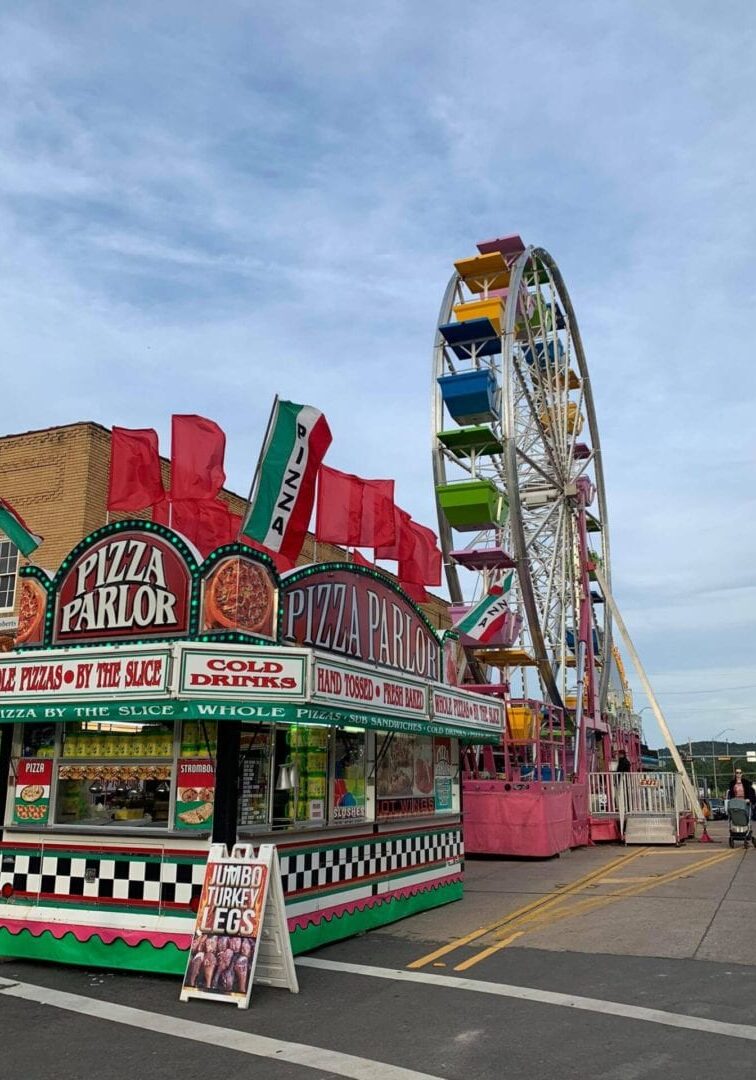 Saturday, October  21st, 2023 11:00AM RAIN OR SHINE
YAMBOREE QUEEN'S PARADE RULES
All ENTRY FORMS may be hand-delivered or mailed to the Yamboree Office  106 Buffalo St., Gilmer, TX 75644, or emailed to gilmerparades@gmail.com.
2. The deadline for all entries is September 28th, 2023.
3. No motorcycles, dirt bikes, ATVs, UTVs, (any vehicle that is not street legal), or any off-road vehicles will be allowed in the parade unless being used by a parade official.
4. No horses are allowed in the East Texas Yamboree Queen's Parade.
5. No traffic will be allowed on Titus St. from 8:00 am Saturday until the conclusion of the parade.
6. All floats to be judged must be on the Gilmer National Bank parking lot by 8:00 am with everyone on their floats by 9:00 am. All other float entries must be on the lot by 10:00 am. All award winners must provide 2 people to carry their award banners during the parade.
7. Schools and other entries that have vehicles in the Queen's Parade will have a pass that needs to be shown to the parade official and or police officer that will allow them access to the parade entrance at Redbud and Titus St. where they will be placed in their slot. Please keep this pass on your dash as it will make for an easier transition for everyone involved. You need to start arriving by 9:30 am.
8. Commercial floats are encouraged to enter. An award will be presented but no cash will be awarded.
9. No animals will be allowed to be carried (on the floats) or walk beside the floats during the Queen's Parade. This violates the rules that we have on the square where only service animals are permitted entry into the carnival area. If you are planning on using live animals as part of the theme of your float they must be either in a cage or in a kennel and be kept on the float.
10. Civic, School, Business, Dance all other types of floats are rotated every year in their positions in the line-up. It is unfair for people to think that they have a monopoly on where they should be placed just because they choose the circumstances of the people that are on their floats. Understand that everyone wants to be at the front and should have the opportunity; do not abuse this by making requests year after year.
11. No one may stand higher than our reigning East Texas Yamboree Queen. Please measure your floats to help us enforce this rule. We cannot control the physical height of the Queen or the Ladies-in-Waiting but we can control the height of the floats.
12. Our parade is in honor of our newly elected reigning East Texas Yamboree Queen. She is the most important person in our parade as history stands on our side. The East Texas Yamboree Queen's Parade is a family parade promoted, organized, funded, and run by the East Texas Yamboree Association. The East Texas Yamboree Association is exercising its rights to the protection of the use of private speech which is guaranteed under the First Amendment by removing anyone or group that does not support our family's first agenda.
A) Protection Of the East Texas Yamboree Private First Amendment Rights – Removal of any group/individual or activity that involves disparaging anyone based on ethnicity, religion, gender, handicap, or sexuality.
B) Hate Speech – Removal of any group/individual or object that is deemed offensive and violates the East Texas Yamboree Associations' protections of its Private First Amendment Rights.
C) Political Speech/Candidates – The East Texas Yamboree Queen's Parade does not allow political candidates whether in or out of office (campaigning) to have a float, or vehicle (whether street legal or not) to participate in the Saturday Queen's Parade. Period. The only exception to this rule is if they are acting as Yamboree President or as a Yamboree Past President but they are not allowed to share any ideology or pass out any fliers, leaflets, etc. The signage on the vehicle may not state their political affiliation.
D) Inappropriate Dancing/Music – Any suggestive dancing that involves salacious moves being performed commonly referred to as "dirty dancing or twerking" is not allowed as it sexualizes the exploitation of children. Any music that is suggestive in lyrical content to exploit any person based on gender, ethnicity, religion, age, or sexuality and to cause harm to that person, individual, or group is also banned and will be removed immediately from the parade.
13. All bands will sound off in front of Gilmer National Bank facing Titus St., this is the official starting point of the parade.
14. No entry may throw trinkets, or candy, pass out fliers, blow loud horns, or use police-style strobe lights, or sirens (except the police and other emergency vehicles that kick off the parade) from vehicles or floats. Cars in the parade may not play radios, iPods, smartphones, or any other devices that produce music or strobe light effects as well. Drill Teams may use pre-recorded music during their bandstand performance.
15. Antique/Classic Car Show participants must follow all rules of the Saturday East Texas Yamboree Queen's Parade. Failure to do so will lead to the expulsion of the offending vehicle.
16. Drivers in the Queen's Parade must be 18 years of age or older and have a valid driver's license and insurance.
17. Entries must travel with the contours of the parade route; weaving is frowned upon.
18. Jr. High and High School Cheerleaders are encouraged to ride in the backs of pickups cheering as they ride. They will be given one opportunity to perform at the bandstand; the routine must last no longer than 2 minutes. Longer performances will cause gaps in the parade.
19. Jr. High Bands, High School Bands, and Drill Teams will be allowed to perform once in front of the bandstand; please keep the performances under 4 minutes as longer times will cause gaps in the parade.
20. Youth Dance/Marching groups with members aged 7 and under are encouraged to have them not to walk the parade route but to ride on a float.
21. Large groups such as football and youth cheerleading groups please use trailers and vehicles in the parade as these are easier to control and place along the parade route as well keep together. I cannot stress enough please do not throw anything into the streets or the crowd. This creates a hazardous environment not only for our drivers, participants but our crowds as well.
22. School buses only on Walker St. from 9:00 am until 10:30 am Buses will unload on Railroad St and can park there or they can go on to the high school. All cars bringing people that are riding on floats must enter Redbud (where the green Charity Box is) and Lawrence St. at the railroad track; we usually have a parade official or a police officer there. Please have your parking pass handy. Parking is allowed on the north side of the float barns.
23. The tractors need to enter Redbud and Titus St and are placed on the Gilmer National Bank repo lot to be entered in the parade. After the parade, they are to go to the classic car show area to be displayed if they so wish.
24. Do not walk back thru the parade route once you have finished with the parade. This will only cause problems for the officials.
25. Please leave your banner on your float so that the parade officials may pick them up later.
26. The Friday School/Youth Parade and the Saturday Yamboree Queen's Parade are two vastly different and distinct parades. The Friday School /Youth Parade showcases the local schools and their talented individuals that have received awards during the school year. It is the first parade where our new reigning Queen is presented to the public to see with her Ladies-in-Waiting. The Queen's Parade showcases the Queen's Float as well as the other six Ladies-in-Waiting's Club Floats and several business floats compete for awards and prizes. Registering for one DOES NOT AUTOMATICALLY REGISTER YOU FOR THE OTHER.
27. The Queen's Parade Chairman has the final say on all entries that will be in the parade and has the right to remove any entry before or at the parade staging area that he deems is in violation of the terms or spirit of the East Texas Yamboree Associations rules.