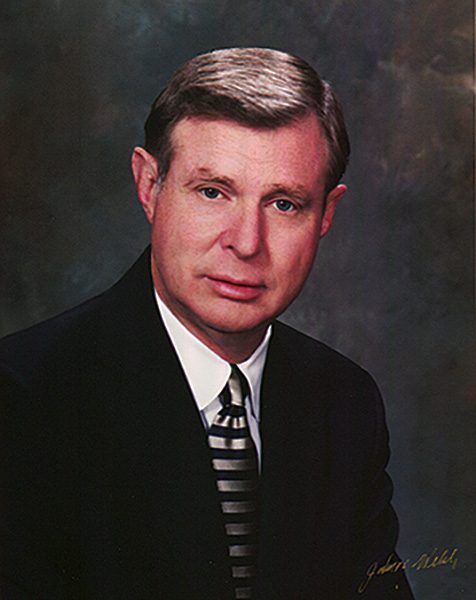 George C. Dodd
Serving as Grand Marshal of the 86th annual Yamboree Queen's Parade is local businessman, George C. Dodd. He is a long-time Yamboree Association board member who has devoted more than 30 years of service to overseeing the Queen's Parades for the annual festival. As a board member, he also was instrumental in the creation of the Yamboree Car Show. In 1990, he served as President of the 53rd Yamboree.
A native of Upshur County, he was born to Hyrum Mack and Laurice Gibson Dodd in 1942. Along with his sister, Jeannine, George grew up in the Enoch community and attended Gilmer
Schools. He graduated from Gilmer High School in 1961 and then attended Stephen F. Austin State University. In 1964, he married his high school sweetheart, Claudia Lancaster. Together they raised four children, sons David and Jeff and daughters Tiffany and Colin, all of whom attended Gilmer schools. After Claudia's death, he married again to Judy Rehkop who is the mother of three children, sons Byron and Bradley and daughter, Shanna. He is a member of The
Church of Jesus Christ of Latter-day Saints where he has served in various capacities including teacher, choir president, men's group leader, and Bishop of the local congregation.
For more than fifty-five years, he enjoyed a career in the automobile business. He joined his father at his used car dealership in 1965 and together they transitioned it to a fleet resale operation, eventually becoming one of the largest in the nation. When his father retired in 1977, George and his brother-in-law, Tedd Austin, partnered to operate the company. Today he is semi-retired, and his son and nephew carry on the family business.
During his career, he was actively involved in industry organizations. He served on the board of directors for the American Fleet and Leasing Association and as president of the National Association of Fleet Resale Dealers.
Mr. Dodd is a past president of the Gilmer Area Chamber of Commerce and East Texas Yamboree Association and serves on
the Gilmer Industrial Foundation board. He has served on
the board of directors of the First National Bank of Gilmer (now the First National Bank of East Texas) since 1986.
In his leisure time, he enjoys traveling and spending time with family and friends. He devotes many hours tending to the flower gardens he has created around his home.
Also, he is an avid reader, particularly of books on historical topics or business-related issues.