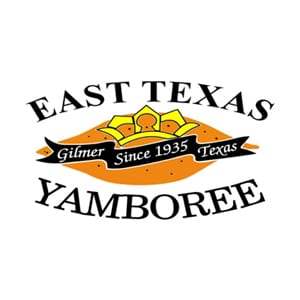 YAMBOREE EXHIBIT BUILDING
AND INSIDE VENDOR INFORMATION
Julie York, Chairman 903-680-8128
Building hours: Thursday 10 am -6 pm, Friday 10 am – 5 pm, & Saturday 10 am – 4 pm.
**NEW** NO EXHIBITS WILL BE RELEASED ON SATURDAY! PICK-UP IS MONDAY, 10/23 FROM 4:00-7:00 pm. NO EXCEPTIONS.
Booths must be set up by 4:00 p.m. Wednesday, October 18th. The building will then close for exhibit judging. If a booth is not set up by that time, or prior approval is not given by the Chairperson, space, and rental fee will be forfeited, and the exhibitor may be replaced due to the limited number of spaces available inside the building and high interest.
Inside booths cost $125.00 for a 10′ x 10′ space for three full days, October 19, 20 & 21. Applications are accepted on a first-come, first-served basis and the Chairperson will set booth placement prior to the event but reserves the right to rearrange as necessary. Exhibitors leaving before Saturday at 4:00 pm may not be invited back the following year.
Booths should be manned while the Exhibit Building is open. If left empty, the exhibitor may not be invited back the following year.
Exhibit booth reservations must be made by October 1st. Payment must be received before the reservation is accepted. Applications received after October 1st must include a $10.00 late fee and will not be guaranteed placement. NO REFUNDS after October 1st.
Not FOR SALE booths must have an activity as well as giveaway items to draw people to the building. Raffle items should be approved and are in addition to (not in place of) other activities.
If Non- Profit business, proof of non-profit status MUST accompany your application.
NO FOOD CONCESSION SPACES ARE AVAILABLE. Exhibitors will not be allowed to sell any concession food or drink items, nor pass out free food or drink samples. Food Concession will be provided by TEEA inside the building.
Exhibitors are responsible for their own exhibits and display equipment. The Yamboree Association will not be responsible for stolen or damaged displays or equipment.
Night security will be provided outside on Thursday and Friday. Security does not patrol inside the building.
Nothing offensive, controversial, racial, or political will be allowed. The Chairperson has the final decision on anything sold.
For safety reasons, children MUST have parental supervision at all times.
VENDORS ARE RESPONSIBLE FOR REPORTING APPLICABLE SALES TAX TO THE STATE COMPTROLLER if items are sold.
Make checks payable to: East Texas Yamboree.
For more information contact:
East Texas Yamboree Association
Address: 1300 Hwy 271 N, Gilmer, TX
Phone: (903) 843-3759
Email: office@yamboree.com
Web site: www.yamboree.com
NOTE: No pets are allowed on premises, other than service animals. A service animal must be under the control of its handler. Under the ADA, service animals must be harnessed, leashed, or tethered, unless the individual's disability prevents using these devices or these devices interfere with the service animal's safe, effective performance of tasks. In that case, the individual must maintain control of the animal through voice, signal, or other effective controls.