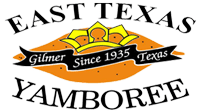 The Annual Yamboree Scholarships will be presented to Upshur County high school graduates this year by the East Texas Yamboree Association.
To qualify for these scholarships the student must:
1. Attend a school that has one or more campuses in Upshur County and have met all requirements of graduation from the school in which he/she attends.
2. Have participated in the Yamboree in any capacity for at least three years.
3. Include complete transcript, along with completed application.
4. You can pick up a copy of the rules and application from your Upshur County High School Counselor.
Please make sure all scholarship applications are turned in to the Gilmer Area Chamber of Commerce by April 15th, 2021. **No applications will be accepted after this date**