YOUTH ART SHOW CONTEST
October 14, 2020 @ 1:00 pm

-

October 17, 2020 @ 4:00 pm
YOUTH ART  SHOW CONTEST
OCTOBER 20th-23rd, 2021
YAMBOREE EXHIBIT BUILDING
SPONSORED BY CENTRAL TITLE COMPANY
Chairperson: Savanna Young (903) 841-0402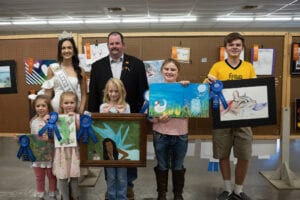 Youth-oriented art show especially for ages 2 thru 18.
Entries should be delivered and registered on Wednesday, October 20th from 1:00 pm–4:00 pm at the Yamboree Exhibit Building
Previous prize-winning pictures will not be eligible for competition.
The fee for Youth Art Contest is $2.00 per entry
Entries are limited to three (3) per person
Youth Art may not be over 20" x 24" matted
All paintings are preferred to be matted or mounted. Frames accepted but discouraged. No glass. Ready to hang.
Best of show winners' photo will be taken at 3:00 pm on Friday, October 22nd.
Positive ID required for release of entries
The chairperson has the authority to place entries in the category best suited for the show.
Please visit our other activities in the Yamboree Exhibit Building while there such as;  The Senior Art Show, The Jr., and Senior Photography Contests, Decorated Yam Contest, Home Canning Contest, and Decorated Yam Contest.
Paintings must be picked up Saturday, October 23rd from 3:00 pm – 4:00 pm. No exceptions. The Yamboree Association assumes no responsibility for articles left after 6:00 pm. Please make sure and pick up your artwork before the display boards are taken down because the Yamboree Association is not responsible for any lost, stolen, or destroyed artwork that is not picked after the 4:00 pm deadline.
Youth I 2 through 4 years of age
Youth II 5 through 6 years of age
Youth III 7 through 9 years of age
Youth IV 10 through 12 years of age
Youth V 13 through 15 years of age
Youth VI 16 through 18 years of age
CATEGORIES
Painting
Pen and Ink (wash)
Graphite
Colored Pencils
AWARDS
1ST Place $10.00
2nd Place $5.00
3rd Place $3.00
Each entry will receive a participation ribbon.
Please direct any questions or concerns to:
Katie Nugent, Exhibit Building Chairman (903) 841-0092