Queen's Parade
October 17, 2020 @ 11:00 am

-

12:30 pm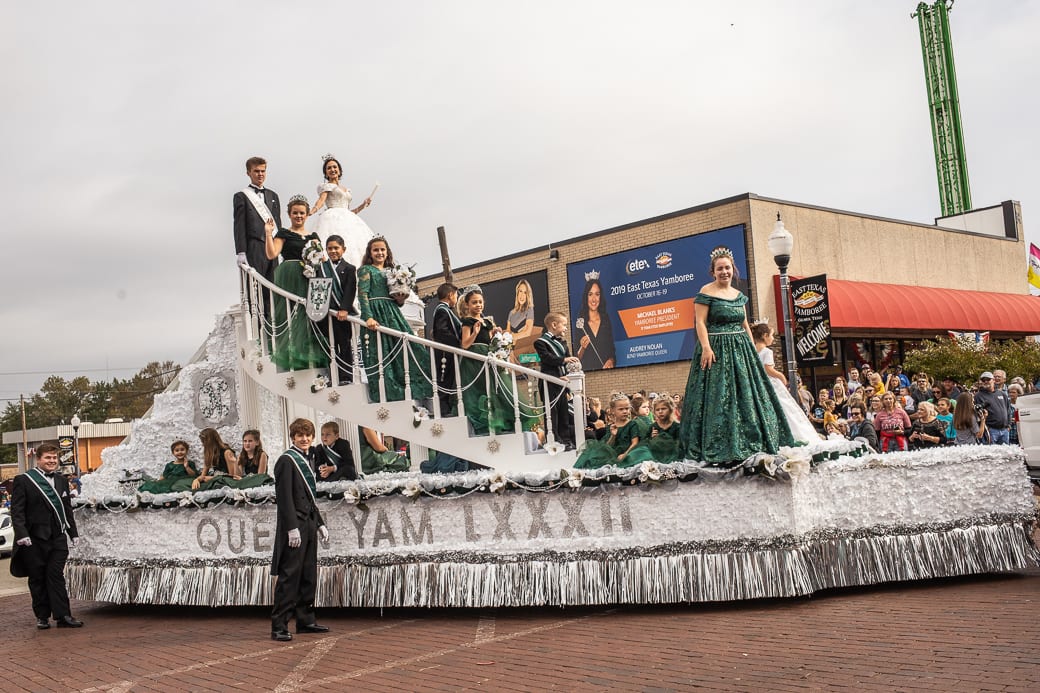 East Texas Yamboree Queen's Parade
October 17th, 2020
Start Time 11:00 am Rain or Shine
Sponsored by First National Bank of Gilmer  & ABC Printing of Longview
 Rules for the Yamboree Queen's Parade
OFFICIAL QUEEN'S PARADE ENTRY FORM
No horses will be allowed in the parade.
No motorcycles or dirt bikes will be allowed in the parade.
ATV or UTV (4-wheel) will be allowed at the discretion of the chairman if used to pull a small float as long as the vehicle has a speed limiter of 15 miles per hour or less. Permission must be gained ahead of the start of the parade. If you show up the day of the parade without clearance to use such a vehicle, you WILL NOT BE ALLOWED ON THE ROUTE.
Loud horns/sirens such as fog horns, bull horns or any form of loud noises that are emitted from a truck or car, other than a firetruck or county/city emergency vehicle, are not allowed and shall be pulled from the parade AND fined as per city ordinance against such nuisances.
Entries MAY NOT throw candy, trinkets, or any other item from vehicle or float.
NO MUSIC PLAYED FROM RADIOS OR CDs FROM CARS/TRUCKS AT any time.
Floats, bands, and dance groups may play/use music to enhance their performances during the parade.

No entries will be accepted after 4:00 pm on October 2, 2020.

A limited number of vehicles, ten (10), will be accepted per school in the Saturday Queen's Parade.
 Commercial floats (local businesses) are encouraged to enter. A trophy for the best commercial float will be awarded; no cash prize is included.
Everyone that is riding on a float, whether it is to be judged or not,

MUST ENTER AT REDBUD STREET AND LAWRENCE STREET (BY THE RAILROAD TRACK)

and you must have a participation/parking pass. You will be allowed to leave your vehicle in our parking area by the Yamboree Float Barns where we have ample facilities.
Floats must be placed on the Gilmer National parking lot no later than 8:00 am if you are planning to be judged. Your people must be on your float no later than 9:00 am. Judging will start at 9:00 am sharp. All work on floats must stop when judging is taking place. All other non-judged floats must be in place by 10:00 am.
All award-winning floats need to provide two (2) people to carry the award banner during the parade. Each judged float participant must have at least one (1) representative at the north entrance of the Gilmer National Bank for the Award Announcement.
Banners may be picked up at the Yamboree Parade office located on the west side of the street across from Gilmer National Bank. It's a small portable building on Titus Street.
Parade entries will enter the parade route from Redbud Street and Titus Street at the barricade manned by a parade official and the Gilmer Police; please remember to have your forms as you WILL NOT BE ALLOWED ENTRY WITHOUT THEM.
Marching groups, cheerleaders, dance groups, youth groups, and other community groups are encouraged to walk the parade route. Cheerleaders and dance groups are encouraged to perform for the crowd by doing cheers along the route. EACH CHEER/DANCE GROUP MAY PERFORM IN FRONT OF THE YAMBOREE BANDSTAND A ROUTINE THAT WILL LAST UNDER 4 MINUTES, THIS ALLOWS ALL OTHERS TO PERFORM AND DOES NOT CREATE UNNECESSARY GAPS IN THE PARADE.
Marching groups with children under 5 years of age are not allowed to walk the parade route.
All parade entries must stay in a straight line with no variations or weaving.

Dance or marching groups that perform lewd (dirty dancing) moves will be removed from the parade and not allowed to participate next year.

BAND BUSES ONLY ON WALKER STREET. All others with children riding the floats and in marching/dance groups please enter at Redbud and Lawrence. (Lawrence runs parallel to the railroad tracks) and please have your entry/parking pass for our parking facilities by our float barns.
All marching bands will come down Walker Street and be led to the area between the Yamboree float barns and the railroad tracks to unload. The buses may stay in the area after they unload or move on towards the Gilmer High School for the Marching Contest after the parade.
All marching bands will sound off in front of the Gilmer National Bank on Titus Street, the official starting point of the parade.
BANDS THAT WISH TO PERFORM MAY DO SO IN FRONT OF THE YAMBOREE BANDSTAND ONLY. THE PERFORMANCE SHOULD BE UNDER 4 MINUTES AS THIS ALLOWS ALL OTHER BANDS TO PERFORM AND AVOIDS UNNECESSARY GAPS.
A limited number of twenty (20) classic cars and trucks will be judged and allowed to enter the Queen's Parade. Judging will take place at 10:00 am. At 10:30 am, they will be moved from E. Taylor Street and turn left (north) onto Hwy 271 N until they get to Walker Street, turn left and pass thru the barricades where they will form a single file line (in the right lane) until they reach the stop sign. It will be from this point that they will be fed into the parade.
The entrants must follow the complete parade route with the exception of the Queen's float. The Queen's float will be moved out of the parade route to her designated area on Trinity Street in front of Quickfish Apparel so that she may watch her parade.
All other entrants will do as follows; the parade officially starts at 11:00 am with the sounding off by the Gilmer Police Department who will lead the parade down Titus Street. The parade will stay on Titus until it gets to the main square where it will take a left onto Jefferson Street, right on Simpson Street, right on Hwy 154 and right on Trinity Street. Entries will continue until Trinity Street ends at Walnut Street and go left on Walnut, then go an additional 50 feet to Railroad Street. Take a right on Railroad Street which takes you back to the float barn area.
Participants are not allowed to walk back thru the parade route as this causes congestion problems.
The Tractor Show participants that wish to be in the parade must leave the Livestock Show and be at their designated staging area by 10:15 am. The route they will take is to leave the Livestock grounds and turn left onto Hwy 271 S, get into the far right lane until they get to the light at Hwy 271 S and Titus Street, turn right onto Titus, at the next stop sign cross Redbud, stay on Titus Street, immediately to your left on Titus Street is a grassy open area where you can park and from here we will enter tractors in the parade. The police/law enforcement will be instructed to allow you to enter and park here.
NO REGULAR TRAFFIC IS ALLOWED ON TITUS STREET AFTER 8:00 AM UNTIL THE CONCLUSION OF THE PARADE.

Parade Chairman has the final decision on any entry that will be allowed in the parade

Please leave your banner on your float so that the parade officials may pick them up later.
This last rule is one of the most important rules that you must remember if you wish to participate in the East Texas Yamboree Queen's Parade. It is a rule that we enforce every year and one that will never change; the tallest person standing on any float is our present reigning Queen. There is no exception to this rule. Floats may have decorations that are taller but the Lady's-in -Waiting (and every other person) must stand lower than our Queen; this is our tradition and it must be honored. You have questions on how high the Queen's Float Podium is, by all means, please take the time to measure it and adjust where your Lady-in-Waiting (riders) will be standing in accordance with the Queen. Measure the doors of the float barns to make sure that floats can easily exit the buildings so that adjustments will not need to be made while judging is taking place. This will hurt your overall score.